Scott
Nass,
MD, MPA, FAAFP
Director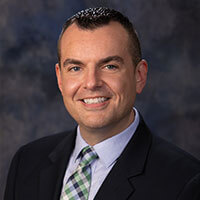 Term:September 2019 -
September 2022
Dr. Nass was born and raised in the foothills of the Appalachian Mountains in northeastern Kentucky. He ventured off to become well rounded by obtaining undergraduate degrees in psychology and English from Bradley University, as well as a Master of Public Affairs from Indiana University-Bloomington.
After working for not-for-profit organizations in center city Chicago and Los Angeles, he recognized an opportunity to combine his love for policy and advocacy with a career in medicine, and then proceeded to earn his medical degree from Charles R. Drew University and the David Geffen School of Medicine at UCLA.
He completed his Family Medicine residency at Ventura County Medical Center, followed by fellowships in faculty development at Ventura and the University of North Carolina-Chapel Hill. After residency, he worked full time as a hospitalist in Ventura County before serving as Associate Program Director and Director of the Family Medicine Inpatient Service for the Eisenhower Health Family Medicine Residency. He became the founding Director of Inpatient Education for the Emanate Health Family Medicine Residency Program before returning to Eisenhower Health where he now serves served as Program Director. In 2021, he became a Complex Care Physician with MedZed, partnering through telemedicine with individuals living medically and socially complex lives to help them navigate the challenges of their own health and the healthcare system.
Dr. Nass is board certified in Family Medicine and is credentialed as an HIV Specialist™ by the American Academy of HIV Medicine. He enjoys practicing broad-spectrum Family Medicine, including hospital medicine, transgender health, medication-assisted treatment of opioid use disorder, dermoscopy, and multiple inpatient and outpatient procedures (including no-scalpel vasectomies).
He is an active advocate for health equity and was selected for the inaugural class of Leaders for Health Equity fellows at George Washington University, and he is now a Senior Atlantic Fellow for Health Equity. He is President of GLMA: Health Professionals Advancing LGBTQ Equality, and he participates in various leadership roles within the American Academy of Family Physicians, the California Academy of Family Physicians, and the American Medical Association.