James
Herman,
MD, MSPH
Director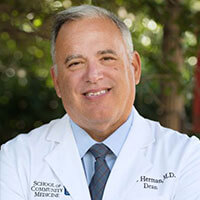 Term:September 2019 -
September 2022
James M. Herman, MD, MSPH, serves as the Dean of the University of Oklahoma School of Community Medicine in Tulsa. As Dean, Dr. Herman has overseen the school's expansion from a clinical two-year campus for third- and fourth-year students to a four-year campus. Dr. Herman is responsible for the OU School of Community Medicine physician practice, OU Physicians-Tulsa. OU Physicians-Tulsa includes more than 300 physicians, 90 medical students, and 80 physician assistant students. They perform approximately 250,000 patient visits per year through five major clinics for outpatient services and with Saint Francis Hospital, Laureate Psychiatric Clinic and Hospital, Jane Phillips Medical Center in Bartlesville, Hillcrest Medical Center, and St. John Medical Center for in-patient care.
Dr. Herman came to OU from the Penn State College of Medicine and the Milton S. Hershey Medical Center. Since 1991 he served as the Hershey Company Professor and Chairman of the Department of Family and Community Medicine. During his tenure as chairman, he successfully led that department's development from a small department into a large department with a range of special clinical and academic programs. At Penn State, he also held Associate Dean of Primary Care and Primary Care Research and director of the Center for Leadership, in which he led a special program in "Leadership" that dealt with change at the Penn State College of Medicine.
Dr. Herman earned a bachelor's degree summa cum laude from the University of Massachusetts, his medical degree from the Johns Hopkins University School of Medicine, and a Master of Science in Public Health degree from the University of Missouri. His residency training in Family Medicine was taken at the University of Rochester in New York. He is a past graduate of the Society of Teachers of Family Medicine's Marion Bishop Fellowship program and is also a fellow of the American Council on Education.
Dr. Herman is a member of many professional organizations and has been appointed to serve on many national committees. He was the project director on 15 National Area Health Education Center grants. He served as principal investigator on many grants and has published numerous papers on assessing clinical practice support and physicians' needs in rural Pennsylvania health care. He served as the director of the North American Primary Care Research Group from 1988-1995. Other interests and areas of publication include stroke care, clinical epidemiology, and patient preferences in medical practice.