Emilio
Russo,
MD
Director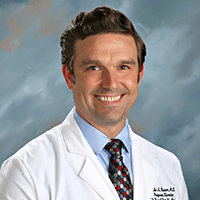 Term:September 2019 -
September 2022
Emilio A. Russo, MD currently serves as Departmental Vice-Chair of Clinical Affairs and Associate Professor of Clinical Family Medicine at Louisiana State University Health Sciences Center, the Director of the LSU Rural Family Medicine Residency Program, Brian P. Jakes Professor of Rural Health Care, and Chair of the LSU Health Science Center Committee on International Educational Experience. Amidst these diverse leadership roles, Dr. Russo divides his days between administrative responsibilities, mentoring faculty and house staff toward artful medicine and health equity, and caring for his patients as a full-spectrum family physician in a rural practice.
As an inaugural member of the Rural Scholars Track, Dr. Russo graduated from the LSU School of Medicine in New Orleans in 2005 and completed his residency at the Family Medicine Spokane Rural Training Track in 2008. Before joining the LSU residency in Bogalusa in 2013, he spent 5 years practicing in vulnerable New Orleans neighborhoods as part of a developing network of LSU clinics post-Katrina and a member of the National Health Service Corps. Dr. Russo's professional interests include family medicine's role in reducing healthcare inequity among vulnerable populations, global health engagement, and innovation in rural healthcare delivery and medical education.
While at home, Dr. Russo spends his time with his beautiful wife as well as their four children—Giovanni, Mia, Liliana, and Luca. He enjoys reading, cooking, soccer, and playing the guitar.