About HPSA
We believe every student should have the same opportunity to attend a health professional school.
Our mission is simple: we help students from underserved communities increase their chances of admission to health professional school. We do this by offering donor-supported guidance, advising, and assistance to students regardless of background or financial capacity.
We serve pre-health students, from current undergraduate students to nontraditional students
From the undergraduate student just getting their feet wet to the nontraditional student pursuing a health professional career later in life, HPSA aims to assist students in their educational journey, regardless of background and financial resources.

Becoming a healthcare professional is an arduous journey that requires prospective students to complete many hurdles. Being a successful applicant requires more than good grades and test scores. Students need to complete volunteering and public service, shadowing, and potentially research. Students coming from less privileged backgrounds do not have the same access to resources either via school counseling, social networks, or personal funds to maximize their admission chances to health professional school. We work tirelessly to ensure all students have access to reliable information and the resources they need to be successful healthcare professional students.
Take a look at some of the many resources we provide.
The Issue
As has been highlighted by the recent COVID pandemic, healthcare systems in the United States struggle with addressing substantial disparities in population health and healthcare1. One key factor in these disparities is that large parts of the U.S. have significant shortages of primary, dental, or mental health care providers2.
Why are there so many shortage areas?
In short, because students who are from these areas don't become healthcare providers. Students from wealthier backgrounds do and are more likely to practice in affluent areas similar to where they grew up. Because medical school classes are skewed toward students from wealthy households and wealthier students go on to serve fewer patients from disadvantaged, rural, and other underserved communities, physician shortages in these areas are continually worsened and perpetuated3. Study after study confirms if students are from an underserved area or a member of an underserved population, they are more likely to go on to serve in an underserved area or worth with underserved populations.
To increase the number of healthcare providers in underserved areas, then, there need to be more students from underserved areas enrolling in and successfully completing health professional programs.
So, what are the factors keeping these students from successfully completing health professional programs?
Simply put, there's an information gap. Multiple studies have identified that lack of information is a key reason why students from underserved communities do not pursue health professional programs. This information gap is confirmed by students themselves as well. As shared in a recent JAMA article, "Many of us don't know the little nuances [or applying to medical school] because we didn't grow up in this milieu." The process for preparing for and being admitted to health professional school is often simply unknown to underrepresented students and those from underserved communities.
So often students will graduate from high school and enter college, and will say that they are interested in becoming a doctor or a dentist or other health professional, but have no idea what it takes or how to plan their educational experience so that they will be prepared not only academically, but be aware of when to apply, how to get information.

Dr. Louis Sullivan, Altering the Course
Our Approach
Reaching Underserved Students Where They Are
How can we get underserved students the information they need to be successful health professional applicants and students? By offering resources and services via the internet at no cost.
This dashboard shows how the Student Doctor Network, published by HPSA, is reaching these students. The map outlines health professional shortage areas as defined by the US government in grey. Points on the map are SDN members who identified a shortage area zip code as their hometown during registration and have been active within the past year.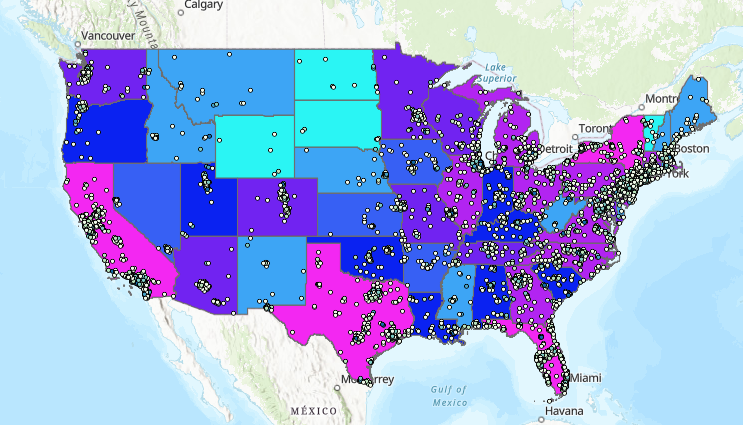 Providing Resources For These Students
To combat this information gap, HPSA provides a range of services and resources designed to help students from underserved communities increase their chance of admission to health professional schools. Visit the Resources page to see a list of our donor-supported resources.
Resources
Barriers for Students from Underserved Communities